Firewalls act as a shield to protect your system and network against cyber attackers. They are the first line of defense that prevents any malicious software or unnecessary network traffic to enter your system via the Internet. It also helps monitor overall traffic and blocks data coming from a few suspicious locations.
Today, many businesses prefer using software firewalls to protect their running devices. We also recommend the same for small businesses. Using a hardware firewall for small businesses will help protect the devices from outside cyber attackers. At present, you may find a wide range of firewall hardware for small businesses, but choosing the right one for your business is a tough call.
Thus, we have shortlisted some of the top firewall hardware solutions for small businesses. Purchase them and add more security to your devices on the network. Compare the shared list of firewall solutions and select the best one suiting your business requirement.
Factors to Consider While Selecting the best Small Business Firewalls Tools
Deployment of the correct firewall system is critical for a secure infrastructure. You may find various firewall systems online that guarantee protection against malicious or unnecessary network traffic. But, before choosing the one for your business, consider the below-listed criteria. Follow the listed factors that will help in selecting the right firewall for your small business.
Reputable company Double check the company and its products before purchasing any hardware. Make sure to go through the reviews and ratings of the company and get assured that it is a reputable one. Also, ensure the quality is certified and they will deliver results as stated. Purchasing solutions from a reputable company adds a guarantee and assurance.
Offers Strong Protection A few companies provide preset configurations of the firewall. On the other hand, a few offer the option to personalize the configuration as per the business need. Make sure to invest in the firewall system that offers personalization capabilities and strong protection against the provided instructions. Thus, making it difficult for cyber attackers to crack the system or damage the data.
Setup and Implementation Setup or installation costs may vary for different companies. Thus, make sure to check on the setup costs and discuss with the vendor before approving the hardware.
Hardware Cost You may find various firewall systems available in the market that offers quality service at an affordable quote. Instead of spending an amount on hardware that does not deliver lasting or quality service, it is best to switch to a brand that has goodwill and offers good service. Hence, choose a firewall solution that is easy to maintain, affordable, and causes no trouble for regular business operations.
Best Small Business Firewall Tools
A large number of small businesses suffer from data breaches and cyberattacks. To improve your cybersecurity and protect the devices against malicious software, we have penned down some of the top firewall solutions. The firewall solutions are tailored to meet the unique needs of SMBs. Go through each hardware and compare their features to choose the best option for your business data and security.
1. SonicWall TZ400 Security Firewall
The SonicWall TZ firewall solutions are one of the flexible, integrated security solutions for small and mid-size organizations. They support software-defined wide area networking (SD-WAN) technology and comprise exclusive features that make it a top choice. The device also has the capability to inspect SSL connections and provide real-time threat detection and prevention.
Furthermore, it encompasses a combination of cloud-based and on-box technologies that result in high-security levels for the organization.
The SonicWall TZ firewall solution design is simple, easy to use, and install.  Even less advanced users can manage the hardware without any issue. As a result, SonicWall TZ firewall solutions can be easily customized with features, such as Power over Ethernet (PoE), in-built wifi, and more.
The product has been in the market for years and has become a trusted firewall solution. Over years, various models like TZ570, TZ570W, and TZ670 have been introduced to the market suitable for distributed organizations. However, when it comes to choosing a SonicWall model for small businesses, TZ400 is the best choice.
With Centralized management, Zero-Touch Deployment, and other features, small businesses find it a reliable solution. It also offers a one-year warranty at an affordable quote.
Features of SonicWall TZ400 Security Firewall
SonicWall has a centralized management system ensuring a high level of security
It provides a secure connection with minimal configuration
SonicWall provides a cloud-based sandbox program to block ransomware attacks and other threats
Real-Time Deep Memory Inspection to capture suspicious code
Real-Time inspection of TLS/SSL-encrypted traffic
It also offers a quick and flexible security solution
900 Mbps IPS and VPN Throughput
Expandable storage features
An integrated wireless access controller
IPv6 support
WAN load balancing support
Provides Biometric authentication features
Integrated PoE/PoE+ support
Supports deep packet inspection for simultaneous network streams
SonicWall is compatible with all operating systems
Website Link: https://www.sonicwall.com/products/firewalls/entry-level/
2. Ubiquiti UniFi Security Gateway
Ubiquiti UniFi Security Gateway is an ideal solution for small businesses that have a tight budget. The Ubiquiti UniFi Security Gateway (USG) supports high-performance routing technology and comprises reliable features. It also uses UniFi Controller, a Graphical User Interface (GUI), to manage the solution.
This compact firewall solution offers advanced firewall policies and connects with the router to protect devices. The design works great for users who have UniFi devices (switches or wifi access points).
The best part is all these devices can be managed from a central place. As a result, users can easily view connected applications, adjust firewall settings, create Virtual LANs (VLANs), etc., from one location.
Ubiquiti UniFi Security Gateway has a centralized interface with three 1GB ethernet ports. Also, they are easy to configure and can route up to 1 million packets per second.
Overall, it is a cost-effective unit suitable for small organizations offering a limited one-year warranty.
Features of Ubiquiti UniFi Security Gateway
It provides network routing and security
Offers advanced firewall policies
VLAN Support
It also provides a site-to-site VPN server for secure and encrypted communication across the network
Integrates with UniFi Controller, a Graphical User Interface (GUI)
It has a centralized interface
Supports QoS for Enterprise VoIP
It has three 1 GB Gigabit Ethernet ports
CLI management features, off-site management, and monitoring
It can also route around 1 million packets per second for 64-byte packets
Ubiquiti UniFi Security Gateway is easy to configure firewall solution
Supports 3 Gbps total line rate for 512 bytes packets
Website Link: https://store.ui.com/products/unifi-security-gateway
3. WatchGuard Firebox T35
WatchGuard provides various products catering to all business sizes, but out of all, WatchGuard Firebox T35 and T35-W are a perfect solution for a small office that allows up to 20 users. It provides full Unified Threat Management (UTM) protection and other features that help in delivering better performance.
The T35 design includes five 1GB ethernet ports, 25 branch offices and mobile VPN tunnels, in-build wifi, and more. It is one of the cost-effective security solutions for enterprises that match distributed work styles.
Also, the product's best-in-class security services help in data loss prevention, threat detection, immediate response, and more.
WatchGuard T35 is an easy to configure and deployment tool emphasizing centralized management and can handle harsh conditions. It is a ruggedized version designed for dusty environments and extreme temperatures. It also supports logging and reporting functions.
WatchGuard products T35 and T35-W start at a decent price with one-year support and maintenance subscription.
Features of WatchGuard Firebox T35
WatchGuard Firebox T35 supports up to 20 users
It offers 278 Mbps UTM Throughput and 940 Mbps Max Firewall Throughput
Supports 5 Gigabit Ethernet ports
Supports PoE ports
Deep packet inspection support
It offers protection against DoS attacks, blended threats, malformed packets, and more
Cost-effective security solution for small and large organizations
It provides full application control
Prevents data loss
Quick configuration and deployment tool
The easy to use firewall solution supports centralized management
For higher performance, the product exercises 802.11ac operating in the 2.4 GHz and 5GHz bands
Supports webBlocker and spamBlocker functions
IPv6 support
APT (Advanced Persistent Threat) blocker
NAT support
Security Suite of WatchGuard Firebox T35 includes network discovery, cloud sandboxing, threat correlation, other services
Website Link: https://www.watchguard.com/wgrd-products/watchguard-firebox-t35-dw
4. Protectli Vault – 4 Port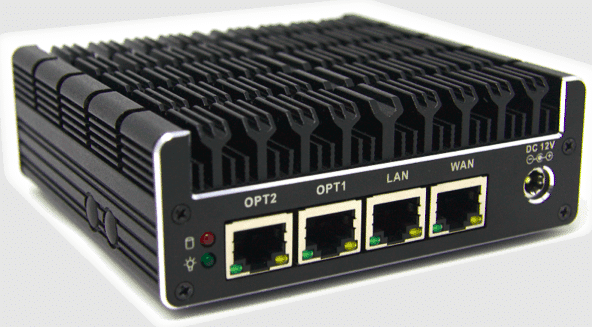 Protectli is another brand that provides a wide range of firewall hardware models for businesses of all sizes. However, their products work a bit differently as they are not a plug-and-play solution. But, the product is a highly valuable solution for small offices.
Protectli Vault – 4 Port is flexible and can be used with different open source firewall distributions.
Protectli comprises various product models with two, four, and six ports ideal for small businesses. They provide advanced firmware protection and support AES-NI hardware, SSDs throughout, and other optional components like 8GB DDR3L RAM, 120GB mSATA SSD, BIOS security.
Get up to 16GB DDR3/DDR4 RAM features with Intel J1900, E3845, J3160, or J4125 Quad Core processors. Another feature that makes it different from others is the fanless, lightweight, and Silent firewall solution that can be placed anywhere.
Features of Protectli Vault – 4 Port
Supports four Gigabit Ethernet NIC ports
Compact, fanless, light-weight, and silent firewall solution
Supports SSDs throughout
It provides advanced firmware protection
Supports VPN and coreboot security features.
Open-source ready and OS agnostic
OS is not pre-installed
Backed with US-based support team
AES-NI hardware support
Flexible hardware model for small businesses
Supports components like 8GB DDR3L RAM, 120GB mSATA SSD, BIOS security (optional)
It comprises two USB 3.0, two HDMI and a RJ-45 COM
Supports CPU Intel Quad Core Celeron J3160 processor
Website Link: https://protectli.com/vault-4-port/
5. Cisco Meraki MX68
Are you looking for a firewall solution that offers Unified Threat Management (UTM) and eliminates the need for multiple appliances? Cisco Meraki MX68 is a combo pack of a router and firewall that supports up to 50 users.
The product design comprises two 1GB WAN ethernet ports, 450 Mbps firewall, and 200 Mbps VPN throughput. Also, it supports 10 1GB LAN ethernet ports. Overall, Cisco Meraki MX68 is an ideal solution for organizations comprising SD-WAN capabilities, web caching, content filtering features, Cisco Advanced Malware Protection (AMP), and more.
Another benefit of opting for Cisco Meraki firewall solutions is it comprises the ability to maintain faster wifi connectivity. The firewall system offers one-year security and supports Static Routing. You can also pay for some of its advanced features like intrusion detection and prevention, Google SafeSearch, advanced malware protection as per the business requirement.
Features of Cisco Meraki MX68
Cisco Meraki MX68 supports up to 50 users
Supports 450 Mbps firewall and 200 Mbps site-to-site VPN throughput
Supports SD-WAN, Wi-Fi, and IoT
Zero-touch provisioning
Cisco Meraki MX68 supports Centralized management using API or a web-based dashboard
It provides content filtering, Advanced Malware Protection (AMP), Intrusion detection, and prevention
Prevents Data loss
Supports SSL decryption and Inspection
Granular app control
Native IPsec support
It provides 100W power provision
Monitoring and visibility across LAN, WAN, and app server
Immediate root-cause analysis
In-built cellular uplink
Supports Automatic Firmware upgrades
Syslog and Active Directory integration
Netflow support
Ensures a speedy wifi connection
Supports Static Routing
Website Link: https://meraki.cisco.com/product/security-sd-wan/small-branch/mx68/
6. Sophos XG 86
Sophos XG firewalls are the true leaders that offer world-class protection, visibility, response, and the best network security pack. They comprise a variety of models and designs for small businesses to respond to threats and monitor network traffic.
Sophos XG 86 is one of the best models for small offices that can help expose all the suspicious payloads, threats, and encrypted traffic. Furthermore, it offers high-speed and unlimited user support at a low cost. It also includes various features, such as alert option, backup, firmware updates, Advanced Web Threat Protection, ultra-low latency inspection, etc.
Sophos XG 86 has four 1GB Ethernet ports, embedded MultiMediaCard (eMMC) storage, and 4 GB of RAM. It also supports on-box reporting, Application Control, and QoS.
Monitor a distributed network with excellent features of Sophos XG available with a one-year security bundle. For an in-built wifi model, you need to pay additionally.
Features of Sophos XG 86
Supports on-box reporting
Sophos XG 86 comprises four 1GB Ethernet ports
It has an embedded MultiMediaCard (eMMC) storage and 4 GB of RAM
Supports 3 Gbps Max Firewall and 310 Mbps NGFW Throughput
It helps provide visibility and exposes all hidden risks
Uses latest advanced technology to block unknown threats
Automatic response to incidents
It provides Advanced Web Threat Protection and traffic scanning
Supports Application Control and QoS
Integrated 802.11ac WLAN features
Fanless
It provides ultra-low latency inspection
Supports SPX Email Encryption
Prevents Data Loss by blocking or notifying users.
Web server protection from hacks and attacks
Website Link: https://www.sophos.com/en-us/products/next-gen-firewall/free-trial
7. Fortinet Security Fabric
Powered by FortiOS, the Fortinet Security Fabric is one of the leading and secure cybersecurity platforms in the industry. As many organizations are moving to digital platforms to accelerate business growth and reduce costs, the chances of data breaches and loss are high. Thus, to protect the data and goodwill in the market, most businesses switch to Fortinet Security Fabric.
The firewall solution with application-specific integrated circuits (ASIC) processors protects both small and mid-size organizations. The in-built processors aid in scaling your performance without affecting security. Also, the firewall solution provides high-speed network management services.
You can find a wide range of routers with varied bandwidths for your small business with Fortinet. Also, with the help of a management console, users can monitor all wired and wireless connections at all times. One can also switch to the Security Fabric package designed for small offices if needed. This package covers endpoint device protection, enhanced security features, and more.
Features of Fortinet Security Fabric
Application-specific integrated circuits (ASIC) processors
Easy to deploy, manage, and operate
It has an integrated security architecture
Fortinet offers broad attack surface visibility
Supports automated operations and response
Website Link: https://www.fortinet.com/solutions/enterprise-midsize-business/security-fabric
8. Palo Alto Networks NGFW
Palo Alto Networks Next-Generation Firewalls (NGFW) is ideal for businesses enabling remote work or looking for work-from-home models. This Next-Generation Firewall solution is compatible with online file-sharing. The firewall solution also supports an automated approach focussing on providing security across the cloud.
It ensures complete visibility and control over the network traffic. Furthermore, to connect with cloud storage, the solution uses site-to-site VPN tunnels. Thus, ensuring security.
If your company uses public clouds to offer customer services, then Palo Alto Networks Next-Generation Firewalls is the best solution for your business. Its robust features will help monitor the traffic and examine every activity at all times. However, it is not specifically designed for small offices but offers cloud-centered protection for businesses if needed.
Features of Palo Alto Networks NGFW
Supports Application-based policy enforcement
Threat prevention against viruses and malicious traffic
It provides traffic visibility and support features like URL filtering, data filtering, mobile security
Protects from DNS-based attacks
Palo Alto's NGFW has an extensible cloud-based architecture
Manages firewall configurations and traffic
Website Link: https://www.paloaltonetworks.com/network-security/next-generation-firewall
Conclusion
With businesses switching to digital platforms for profit and growth, cybercrime is also expanding. Most people believe only large corporations or banks have to deal with cyber-attacks. However, it is not true. Hackers do not target any specific category, business size, or industry. Thus, in order to protect businesses from cybercrimes or fraud, you need a firewall.
A firewall is a network security device that monitors all the traffic and blocks any suspicious data, account, or user. It prevents and blocks outsiders from accessing any sensitive data or device.
If you run a small business and are looking forward to purchasing an affordable firewall solution, we recommend following the above list. SonicWall TZ400 Security Firewall, Fortinet Security Fabric, Sophos XG 86, Protectli Vault – 4 Port, etc., are a few trusted firewall solutions. Check out their features and select one as per the business requirement and budget.